The Nigerian entrepreneurial space gain more recognition as the Yenne brand recognized and honoured well meaning entrepreneurs at the Yenne Business Recognition Award YEBRA Awards 2021 which took place on 28th April, 2022.
Yenne Business Recognition Award (YEBRA) is a platform where creativity, accountability and resourcefulness is being acknowledged and appreciated, and honour brought to hard working and well known entrepreneurs in Uyo, the capital of Akwa-Ibom, by the Yenne brand. The maiden edition of YEBRA held on Thursday the 28th day of April 2022 at E4 Hall at Ibom Tropicana mall and Event Center, Uyo, Akwa-Ibom State, Nigeria.
The economic recession became absolutely instrumental to bringing out the creative side of well meaning youthful entrepreneurs in Akwa-Ibom State. The YEBRA Awards also proved that creativity is not gender based, as the BEST SHOE MAKER Award was received by a young lady. This is a catalyst to make youths to give birth to resourceful abilities and groom these abilities accordingly as the public is watching and won't fail to recognize their genius nature.
As a business brand who is interested in other business oriented brands, as well as individuals who have carefully made good effort towards problem solving and wealth creation, the Yenne brand decided to appreciate and as well promote these great achievers whose efforts through 2021 has stood out to be great and exceptional though the Yenne Business Recognition Award (YEBRA). To go hand in hand with the YEBRA Awards was the philanthropic investment in outstanding infant/ small scale businesses who are making good efforts in standing out and as well growing, in an interesting contest tagged  'Oga Yenne Business Support fund'.
The 'OgaYenneBusinessSupportFund hashtag trended on Uyo Facebook community while the contest lasted, as the competition was carried out in 3 different stages for a period of about 4 weeks. This contest, Oga Yenne Business Support Fund exposed Akwa-Ibom residents and other followers of the Oga Yenne page on Facebook to fast growing small scale businesses in Uyo, Akwa-Ibom State, Nigeria.
The winners of the Oga Yenne Business Support Fund:
Miss Happiness who owns and runs Vittle Foods won first place. Vittle Foods is currently known as the best sea food plug in Uyo, Akwa-Ibom.
Another beneficiary of the Oga Yenne Business Support Fund was Miss Nnenna Robert, the CEO of Posh-me Beddings, as she came out as the first runner up. Posh me beddngs is a firm registered with the CAC of Nigeria and they deal on beautiful and comfortable bedding and towels which are of the finest quality.
As a forward thinking business, the CEO of Posh Me Bedding has adopted the New edge Marketing strategy, were clients can purchase their preferred goods online and get these goods delivered to their home or offices. This means that you can effortlessly order for skin friendly and affordable bedsheets, pillow cases and towels by calling or texting a phone number which you can find on their official Facebook page. Posh-Me beddings currently offers nationwide speed delivery.
How coincidental that the  Oga Yenne Business Support Fund contest ended an all ladies contest as Miss Imaobong Ibuot, the owner of Blossom Dynasty, came out as the second runner up. Blossom Dynasty is a company that deals on breathtaking fragrance skincare products as well as all type of cologne  that would bring forth the wearer's inner beauty to the admiration of passers by.
According to Oga Yenne, the progenitor of the project, the support funds is made available to assist the young entrepreneurs grow and develop their different businesses and it was a way of extending a hand of encouragement to these young stars, to show that their efforts are largely appreciated and undeniably encouraged.
The recipients of this grant expressed happiness and thanked the brand for the support and wonderful platform which it has created for them as it would go in handy to helping them improve on and grow their businesses.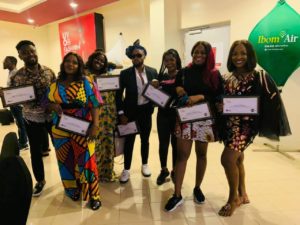 They also called on other able hands to follow suit by extending a philanthropic gesture to other hardworking and enthusiastic entrepreneurs who are marching diligently in a bid to make the business environment in Akwa-Ibom State a better one and also provide quality goods and services to their consumers/ customers. Everybody's effort in the race will most likely contribute to a better and more pleasant Nigeria. The YEBRA Awards alongside the Oga Yenne Business Support Fund are indeed great initiatives in the Nigerian entrepreneurial space and we do hope that we witness more of these kinds of events annually. I personally think this was a wonderful occasion to experience, what's your opinion on the YEBRA AWARDS 2021? Do well to share this post as you leave us with your thoughts, thank you for reading.