Vaccine for Coronavirus: Is it safe?
The arrival of safe, effective COVID-19 vaccines is a major development in the coronavirus pandemic. An effective COVID-19 vaccine will help protect people who come in contact with the virus from becoming sick. As more people are vaccinated, families and communities will be able to gradually return to a more normal routine.
Many people are asking if the COVID-19 vaccines are safe. This is a research article meant to ease doubts about vaccine efficacy and safety. Nearly a year after the COVID-19 pandemic began, several vaccines have now been rolled out across the world, including some that use new RNA technology that has never been approved for use on humans before. Although all these vaccines have been produced at record speed, with processes run in parallel to save time, there have been many checks and balances to ensure their safety, including being subject to the same scientific and regulatory rigour as any other vaccine.  
"Any possible risks that may exist are considerably lower than those associated with COVID-19 infection, and vastly outweighed by the benefits of protecting people and preventing the virus from spreading"
ENSURING SAFETY
A candidate vaccine goes through several stages before it can be given to people – right from the exploratory science, to the pre-clinical testing (often on animals), then clinical development (which includes three phases of human trials), and finally regulatory review and approval, manufacturing and quality control.
In pre-clinical studies, a vaccine is tested to see whether it is toxic and how it reacts with the body – this is to identify a safe dose before testing the vaccine candidate in people.
Human trials are designed to spot side effects – these are not the same as temporary short-term reactions such as a headache, sore arms, fatigue, chills and fever, which are not uncommon in other vaccines or injections and are usually not harmful in the long term. Genuine side effects mean anything long-lasting and potentially dangerous.
NEW TECHNOLOGY
Two of the new vaccines developed by Pfizer-BioNTech and Moderna use mRNA technology. The advantages of mRNA vaccines are numerous – they are fast to develop, cheaper and easier to manufacture than more traditional vaccines. Although RNA vaccines have not been used on the public before, this technology has been carefully developed for over a decade and there are many reasons to be reassured that they are safe.
So how does an mRNA vaccine work? RNA (ribonucleic acid) is related to DNA, and mRNA is messenger RNA, part of our genetic code that tells cells what proteins to make. The COVID-19 vaccines exploit this by sending a copy of the messenger RNA belonging to the coronavirus into our cells instructing them to make spike proteins similar to those found on the surface of the COVID-19 virus. This works because the spike protein triggers a strong immune reaction in our bodies.
But the viral RNA does not tamper with our genetic code because it does not enter the nucleus at the heart of our cells, and so does not come into contact with our DNA. Also, RNA disintegrates within about 72 hours.
SIDE EFFECTS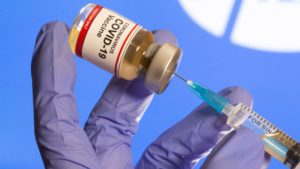 During clinical trials, the Pfizer-BioNTech vaccine was given to half of a total of 43,500 people and the Moderna vaccine to around 15,000 of 30,000 people in the trial. Throughout the phase 1, 2 and 3 trials assessing safety, no major side-effects have been reported so far.
Oxford/AstraZeneca's candidate is a vector vaccine, which also works by inserting part of the genetic code of the virus into cells instructing them to make spike proteins. But unlike mRNA vaccines, these instead use a harmless virus to deliver it. In clinical trials of this vaccine, there were very rare reports of events associated with inflammation of the nervous system, but it is not clear whether those events were related to the vaccine.
The Task Force for Global Health's Brighton Collaboration is a group of more than 750 vaccine experts working on vaccine safety, including for COVID-19 vaccines. In partnership with the Coalition for Epidemic Preparedness Innovations (CEPI) – which, together with Gavi and the World Health Organization (WHO) is driving forward COVID-19 vaccine development – the Brighton Collaboration convened global experts to draft lists of potential adverse events of special interest for COVID-19 vaccine candidates which are reviewed by WHO.
This is just one part of the routine monitoring carried out on the use of a new vaccine in the population, to watch out for any unexpected side effects. This includes a wide range of possible side-effects, including any respiratory complications (such as pneumonia or acute respiratory distress syndrome), as well as cardiac (including cardiogenic shock, cardiomyopathy or coronary artery disease), acute renal and hepatic injury, or sepsis.
MYTHS AND MISINFORMATION
As with any drug or vaccine, separating fact from fiction is critical and can be increasingly hard to do with the amount of noise surrounding the safety of COVID-19 vaccines. Rumours circulating on the internet and social media platforms include, for example, ones claiming that the new vaccines can affect fertility, despite there being no evidence. More importantly, there is no biological possibility that COVID-19 vaccines could affect fertility.
Nor can the vaccines give you COVID-19, and there is no biologically plausible mechanism through which they could do so. While there have been anecdotal reports of people appearing to get COVID-19 after the first dose of the vaccine, it is most likely that these patients already had the virus incubating before their shot. Or they were part of the small percentage of people in whom the vaccine failed to trigger an immune response, and then subsequently became infected. 
Ultimately safety is paramount throughout the entire vaccine development and the regulatory approval process. Moreover, any possible risks that may exist are considerably lower than those associated with COVID-19 infection and vastly outweighed by the benefits of protecting people and preventing the virus from spreading.
Covid-19 Vaccine Focus in Nigeria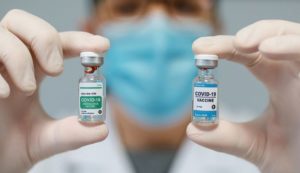 ---
The news of the vaccines has been met with skepticism by many Nigerians, due to the lack of trust in the government. One cannot blame people for such mistrust given the administration's history of lack of empathy for the masses. The information from prominent persons in power has not also helped to alleviate such fears. Since the arrival of the vaccine last week, the governor of Kogi State Yahaya Bello has said he will not receive the vaccines and he will not allow his people to be used as guinea pigs. Such comments will hardly dissipate vaccine hesitancy amongst Nigerians. Nigeria received about four million doses of AstraZeneca/Oxford COVID-19 vaccine shipped into the country through the Nnamdi Azikwe International Airport, Abuja. This vaccine was subject to proper testing and is used in the United Kingdom.
              Some health workers including the first Nigerian to receive the vaccine on the country's soil, Dr Cyprian Ngong of the National Hospital, Abuja, received shots of the vaccines when the exercise was flagged off by the Chairman of the Presidential Task Force on COVID-19, Boss Mustapha, yesterday in Abuja. Initial fears about the vaccines, were the government buying substandard products from the black market.
Another case of a prominent person, not helping to ease fears are the comments of former senator Dino Melaye. Mr Melaye claimed that it is impossible to have secured a vaccine for the novel virus given that "other diseases like cancer, diabetes and HIV/AIDS still have no vaccines".
"For 100 years now, we could not find a vaccine for cancer, for over 40 years we are yet to find a vaccine for HIV/AIDS, for over another 100 years research is still going on to find a vaccine for diabetes. How is it possible on earth is it possible that in one year, you find a vaccine for COVID-19 ?" He claimed that some people who took "that vaccine", died within three days; a claim not backed by facts as the few countries that have started administering the virus have yet to report such deaths. Countries such as the U.S. and the UK have begun administering the virus. "I am calling on African leaders not to allow Africans to be used as guinea pigs by developed nations for their satanic reasons," he said in the video. "We say no to the application of any vaccine in Africa. We call on the Minister of Health of the Federal Republic of Nigeria to immediately discontinue the interaction with those who want to give us vaccine."
These claims are completely wide off the mark and constitute a threat to the general public, He further commented, that government should have invested internally to locally produce vaccines does not give room for comfort either, as the state of our research and health care systems are far from the level needed for a pandemic. It will be a huge task for the government to fully convince the masses to take the vaccines, and the actions of the socially and political elites will either make or break their inoculation plans. Proper sensitization devoid of political interference will be needed and the current state of the nation already makes it look like a plan fully funded to fail.  
Further Research Sites for Vaccine safety and Efficacy