Okiemute Deborah, AKA Sassie Dira and three others were arrested for alleged internet fraud in Benue State, Nigeria but Deborah's name has been making rounds following the alleged crime.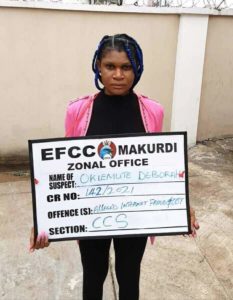 Deborah has become the 'most popular' among the arrested suspected criminals for many reasons.
One may think that Deborah 'Sassie Dira' Okiemute has attracted more attention to herself because she is the only female in the group of people who was arrested. Deborah is a graduate from the University of Benue, Benue State.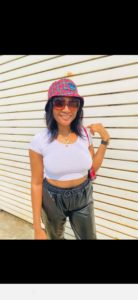 It seems Deborah has fetched herself a handful of 'haters' as numerous social media users have one or two shaming words to put out to her regardless of what she might be going through in the hands of the authorities.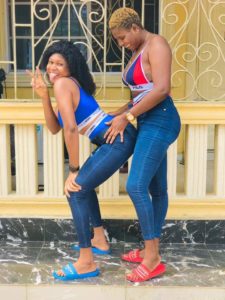 We are all aware of the detrimental consequences of evil, committing crimes or being associated with it. Although some well meaning Nigerians are of the opinion that Deborah should be left alone while the BIG thieves should be chased… that topic should be chopped on a different board. 
Facebook users and other readers have had a fly time trying to digest the fact that Deborah was actually arrested a few days after she wished herself a happy new month in May. From all indications, Deborah's post was a 'pepper dem' post and maybe that's why a lot of online 'amebos' are on her Facebook profile ranting.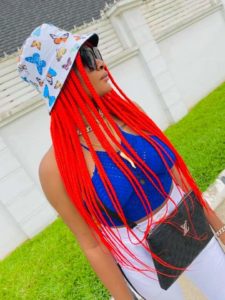 Among all the amusing comments which have been dropped on Deborah's Facebook profile picture, are that questioning her beauty. We think Deborah is a beautifully dripping girl, that's why we've decided to share some of her nice pictures.
Now be the judge. What do you think of this cute young lady, Okeimute Oghenekpaobo Deborah?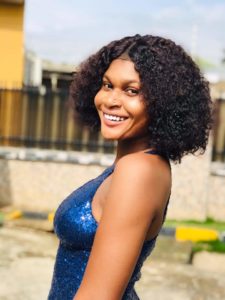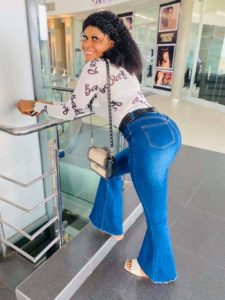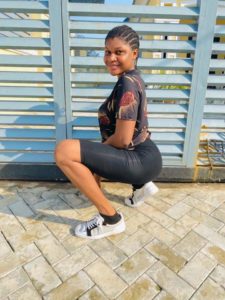 Excerpt from the statement signed by Wilson Uwujaren, spokesman of the commission. 
'The suspects, Gideon Damisa, Sunday James, Friday Ebosele and Okiemute Deborah, were rounded up by operatives of the commission following intelligence report on their alleged criminal activities in and around Makurdi metropolis…'
'At the point of arrest, the principal suspect, Gideon Damisa, was in possession of a Mercedes Benz GLK 350, one IPhone, two Pro Max, two Infinix phone and ATM cards among others…'
'They will soon be charged to court.'